Description
By adding approximately 30 cm of foot space, this handlebar extension is ideal when using Kiddyboost with compact pushchairs that have little space for the feet. This product also provides comfort for walking when a buggyboard is attached to the back of the stroller.
The throttle of Kiddyboost is easy to install on it.
Flexible, the extension can be partially raised to fit in lifts for example.
Important warnings :
The extension is not rigidly mounted on the handlebar, but loosely for safety reasons and in line with European legislation (EN1888) in order to avoid "leverage" of the extension that could destabilise or tip the pushchair, even by a small child.
As a result, it can only be used to push and guide the pram, but is not suitable for manoeuvring (at least without the help of the motor), pushing on it or levering on the extension to climb a kerb, which the handlebar of the pushchair is always accessible for.
Thanks to its fastening system, it fits most handlebars with closed grips that respect the dimensions below,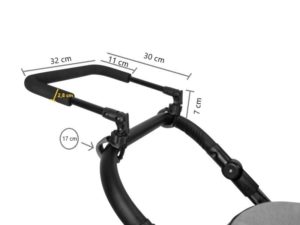 It can also be adapted in some cases to open handles. In the latter case, the space between the handles should be about 27-28 cm (see photo).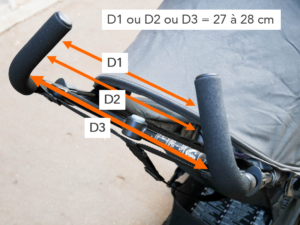 Easy to mount thanks to the two universal clamps.