Description
Kiddyboost is a removable power system that can be mounted
on most children strollers
– Easy to install, it can be mounted and dismounted in less than one minute.
– Once the power is on, press the trigger fixed on the handlebar and push the stroller simultaneously
the electric assistance starts after 1 to 4 steps ..
– Speed can be adjusted up to 4 km/h.
– Up to 4 children with a 10% slopes.
– A removable lithium-ion battery of 24V and 7.8 Ah for a range up to
30 kilometers on flat ground. –
– The battery can be recharged in less than 4 hours with the supplied charger.
– Kiddyboost weight is arround only 9.5 Kilograms.
– The battery and arms can be removed to ease transport and storage.
Kiddyboost STD is supplied with standard extensions for strollers with a total width of less than
80 cm wide– Attention : see exceptions and compatibility in
the FAQ part of the overview page to be consulted before
ordering. A non exhaustive list of compatible strollers with the size of the
extensions is up-dated on a regular basis and can be consulted by clicking HERE. In case of doubt,
please contact us by sending an email to contact@kiddyboost.com.
For the very big strollers with a total width between 80 cm and 100 cm,
or if the distance between the fastening area on the rear chassis tubes and the axel of the rear wheels
(including parking brake) is > 30 cm, select Kiddyboost with XL extensions.
(see exceptions in the table HERE).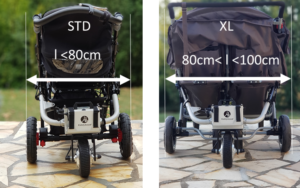 OR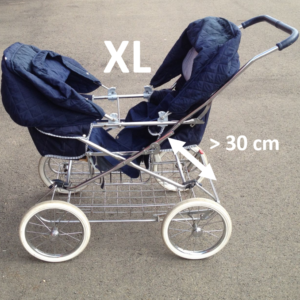 To adapt different sizes of strollers, Kiddyboost is proposed with
additionnal extensions. Select Kiddyboost with STD + XL extensions.